Gatsby
Boston indie rock heroes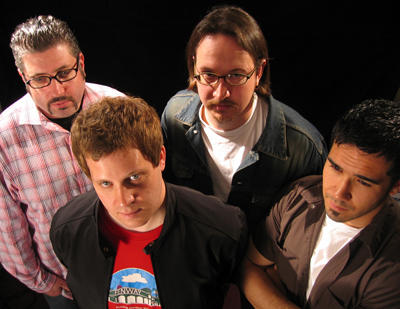 "Played through top to bottom, Floods + Fires is a great album."

--Now on Tour
"Gatsby are evocative of early-90s Chapel Hill based bands like Small 23 and the Archers of Loaf, but "Floods" is hardly a throwback. Scrappy yet unmistakably modest, Gatsby are masters of the quintessential three-minute indie-punk tune and there are several of them here––Snakes, Prize Fight, and Grad School to name a few clangy, buoyant examples...Gatsby have the great American indie-guitar rock album on their hands."

--Big Takeover
"...nothing could prepare you for Floods + Fires. Gatsby have been likened to Hüsker Dü, Heatmiser, Guided by Voices, The Feelies and Das Damen, and here, at last, you'll get the impression that they've earned the comparisons." --Splendid
"5th best New England CD of 2005"

--Worcester Magazine
About Gatsby
Jay Figueroa - guitars
Scott Robinson - drums
Brandon Comstock - guitars, vocals
Alan Wuorinen - vocals, bass
Gatsby was a revved-up, independent rock band from Boston with roots that branched out into post-punk, americana, pop, and noise. The band drew inspiration from occupational comas, near-death experiences, bad habits, awkward silences, high anxiety, long lines, PBR, and GBV. Alan and Brandon are now doing the Longwall thing.
Between 2001 and 2005, Gatsby independently released 3 EPs, a 7" single, the full-length Floods + Fires, and appeared on a Vinyl Ritchie comp with Reverse, Bulletproof Plan, and others.
Floods + Fires received airplay on more than 100 college radio stations in and around New England (charting in the top 25 on several) as well as on WBCN, WFNX, and WAAF. The album was named the fifth best in all of New England by Worcester Magazine and was called a "great American indie-guitar rock album" by the Big Takeover. The track "Paint" was incluced on a Splendid podcast in Fall 2005. The band played two "On the Town with Mikey Dee" sessions on WMFO and a live acoustic set on WAAF's Bay State Rock.
Gatsby played shows all over New England as well as in NYC, Phili, and Washington DC, sharing stages with many stellar bands past and present, including the Pills, the Beatings, the Model Sons, the Curtain Society, Bulletproof Plan, Reverse, Ho-Ag, Quick Fix, the Spoilers, Mercury Charm Offensive, the High Ceilings, Codetta, Reverse, the Drags, Brett Rosenberg, Ho-Ag, Bottlefight, Kipper Tin, and many more. Gatsby also played with both the Wackass Egyptians AND Swissbomb. Yes, they were that awesome.