Connect with neighbors and learn a range of cooking and baking techniques through hands-on workshops  hosted in my home! Or request a private class in your kitchen for yourself, your family, or your friends.
Next workshop: Gluten free pasta & chocolate cake!
Saturday September 14 | 11am-1pm | My house off Forest Hills St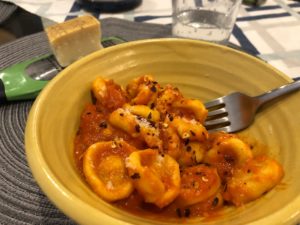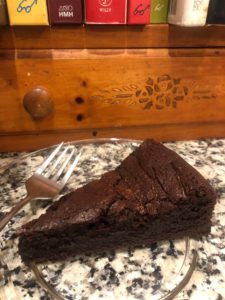 Sign up for the mailing list:
NeighborFoodGroup in the news!

"JP Resident Channels the Power of Food" – Published 11/9/18
Photos from the Workshops:
In the last few workshops, we've made ice cream sandwiches (August 2019), cookies & cream ice cream (July 2019), strawberry ice cream (June 2019), pad thai (May 2019), donuts and popovers (April 2019), cupcakes with kids (Mar 2019), macarons (Feb 2019), lasagna and baklava (Jan 2019), and fresh pasta (Oct, Nov, & Dec 2018).
What Neighbors are Saying:
I loved how professional you were. Everything that you had – the two kinds of water, the coffee and tea, the flowers, the beautifully set table, the aprons and recipe cards – all of that was extremely well done and thoughtful. You've taken care of every detail and I really appreciate that. The cooking all went flawlessly, thanks to your careful preparation and time management. And I learned a few tips. – Glen
The process was very organized. We all participated in every phase of the project (trying out our training wheels). I loved meeting people who I may never have run into anywhere else! – Catherine
This was so much fun. I really learned a lot and met some great folks. It was really cool getting to learn in a home environment rather than a big kitchen or a classroom. Everyone seemed to have a great time, and it was awesome to finish the class with a meal around the table. I would definitely take another class. – Dylan
My husband and son were really impressed with and grateful for your clear, encouraging and organized instruction and it was a special pleasure to enjoy the (amazingly delicious) fruit of your collective labors together. – Naama
It was fun, hands-on, and made some fancy food which felt really easy to make. – Laura
Loved everything about it: the adorably portioned single recipes, the camaraderie, the free-flowing questions and answers, the delicious finished products, the two-sided recipe cards, and getting to meet neighbors. – Emily
Friendly group, simple steps explained well, lots of opportunities to ask questions. – Joy
Jen creates a genuinely warm atmosphere in which neighbors can connect with each other. She has prepared the recipe ingredients and planned the order of operations such that the timing is managed perfectly for the 2 hours we are together. Her sessions are a perfect combination of fun, inspiration, culinary learning, connecting with others and an opportunity for me to have fun with my 13 year old daughter outside of the house and away from technology! – Laura